Descubre cómo es Abelina Room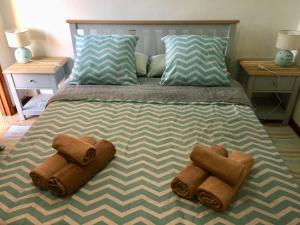 Descripción de Abelina Room
El Abelina Room se encuentra en Corralejo, a 200 metros de Corralejo Viejo, y ofrece alojamiento con terraza, WiFi gratuita, cocina compartida y mostrador de información turística. Dispone de balcón privado. El alojamiento también cuenta con cocina totalmente equipada con nevera, horno y fogones, zona de comedor y baño con bañera. Las Clavellinas se encuentra a 300 metros del alojamiento, mientras que el Charco de Bristol está a 700 metros. El aeropuerto más cercano es el de Fuerteventura, ubicado a 42 km del Abelina Room.
Please note there are two dogs living on site. The property is in a building with no elevator.
Servicios e instalaciones de Abelina Room
Servicios comunes:
Parking, Parking gratis, WiFi en todo el alojamiento
Servicios e instalaciones:
Internet, WiFi, WiFi gratis
Tanto el buscador de hoteles como el proceso de reservas es un servicio totalmente gratuito. Esta página web no añadirá cargos extra por efectuar sus reservas, ni efectúa cargos en las tarjetas de crédito/débito de los clientes, ya que las estancias se abonan directamente en el hotel.
La cancelación de su reserva no conllevará ningún cargo siempre y cuando cumpla las condiciones establecidas por el hotel.
Condiciones de las reservas:
Estas son las condiciones generales de este establecimiento; pero es posible que las habitaciones dispongan de algunas condiciones especiales, para verlas debe hacer clic sobre cada habitación.
Hora de entrada:
14:00
21:00
Hora de Salida:
11:00
Cancelaciones:
Para ver las condiciones de cancelación de este establecimiento debe seleccionar las fechas en las que desea alojarse.
Información adicional:
Please note there are two dogs living on site. The property is in a building with no elevator.
El proceso de las reservas es totalmente seguro. La totalidad de los datos personales se cifran y procesan bajo un servidor seguro responsabilidad de booking.com. Toda La información personal de los clientes se utiliza únicamente para procesar la reserva. Para más información ver las Política de privacidad.